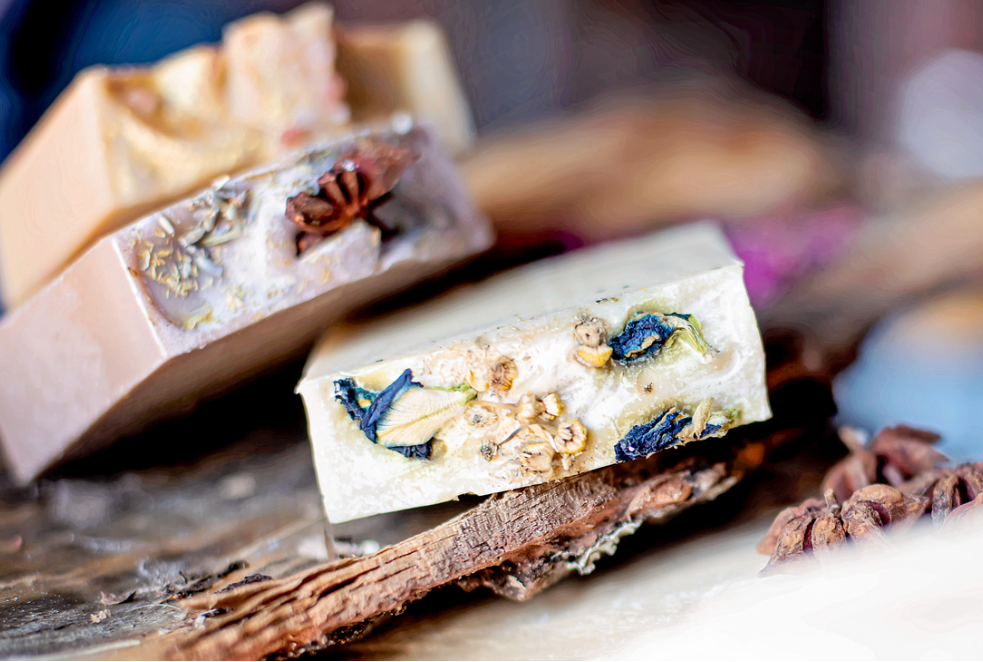 Handmade and Cold-Pressed
Artisan elegance in every bar, carefully crafted by hand with natural and high-quality ingredients.
Shop Now
Our Handmade Soaps & Other Products
Goat milk has been a favorite ingredient in soaps for a long time. It is particularly moisturizing and nourishing to the skin because of the caprylic and capric triglycerides it contains. The protein strands in goat milk are shorter and more readily absorbed by the skin than those in other milks. We only use sustainably sourced palm oil and organic oils and pure therapeutic grade essential oils in our soaps. Quality and sustainability is very important to us.

The beauty of handmade soaps is during the process of soap making, glycerin is created naturally. Glycerin helps the skin retain its natural moisture. Commercial soap manufacturers remove this by-product and turn around and use it in other skin care products and lotions. All of our chunky soap bars are approximately 5 ounces.
Our mission is to use the resources of our farm to produce high quality products that can help people and to show that people with Down's Syndrome can accomplish just as much as anyone else like Serena does.
Patience, love, and care in every bar of soap we make by hand.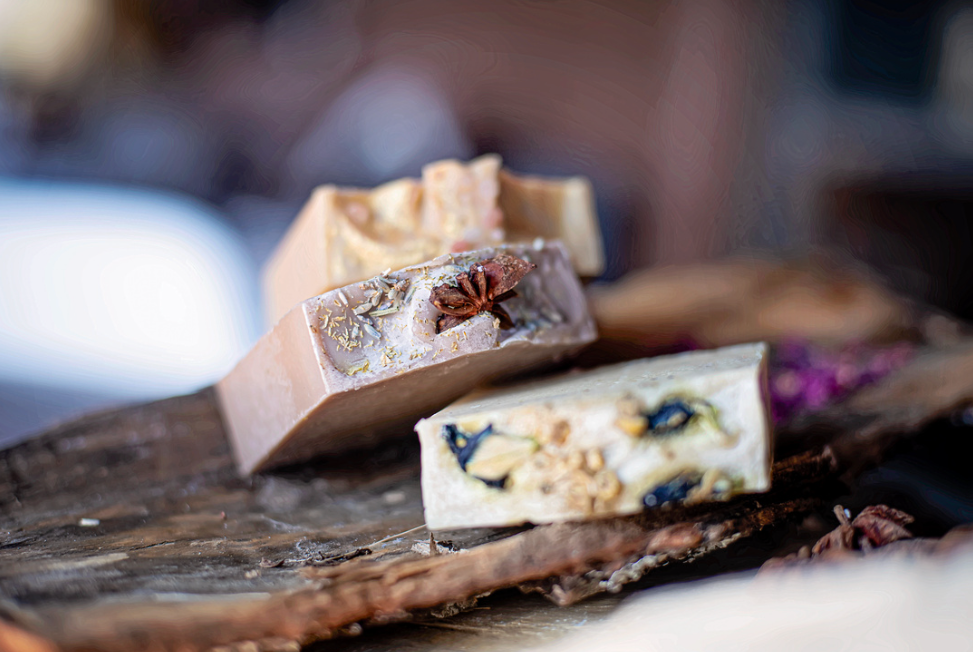 Regular price
Sale price
$56.00
Unit price
per
Elevate Your Skincare Routine with our Superior, Skin-Friendly Products.
Gentle Cleanse

Goat milk soap is gentler to the skin. The milk delivers calcium to the skin, making it smoother and healthier. If you've never experienced goat milk soap before, we're happy to answer any questions you may have, style, or even provide a review.

Small Batch

Our handmade soaps are made in small, frequent batches.  We use fresh goat milk from our Nubian herd, quality oils, organic when available. In choosing our handmade soaps, you are not just choosing a cleansing product; you are indulging in a luxurious self-care experience that nourishes your skin and embodies our unwavering commitment to quality and craftsmanship.

Water-Based Options

Occasionally, customers prefer a water based soap which we make available as well. The same chemical process for developing glycerin in the soap occurs with these soaps also. The only difference is water is being used instead of milk. Contact us if you would like to request a water-based option so we can craft something special for you.
More About Our Products
At our charming, locally-owned artisanal soap shop, we infuse each of our handmade creations with a touch of pure magic. Crafting soap is not just a passion; it's a cherished family tradition that's been passed down through generations, and we're thrilled to share our exquisite range with you.

When it comes to scents, we take pride in offering you an olfactory journey like no other. We carefully select essential oils, focusing on pure therapeutic-grade options whenever possible, to create enchanting fragrances that elevate your daily cleansing ritual. For those special scents that simply can't be captured with essential oils alone, we've thoughtfully incorporated fragrance oils, ensuring a symphony of delightful aromas in every bar.

Our commitment to natural beauty extends beyond scent. We believe in the power of Mother Nature's palette, which is why we exclusively use clays, herbs, and other natural colorants to adorn our soaps. These botanical infusions and herbs not only enhance the cleansing properties of our creations but also ensure that you won't find any harmful chemicals from colorants touching your precious skin, a luxury not all handmade soaps can claim.

As a family who has cherished the nourishing benefits of goat milk soaps for generations, we can attest to the transformative power of this ingredient. Loaded with a bounty of vitamins including A, B1, B6, B12, C, and E, as well as essential minerals like zinc, copper, iron, and selenium, goat milk is a skincare elixir. Its unique blend of fatty acids has been known to work wonders for acne-prone skin, while its abundance of alpha hydroxy acids imparts a youthful, radiant glow. The creamy richness of goat milk soap gently exfoliates, hydrates, and brightens your skin, revealing its natural beauty.

Don't just take our word for it—our own children have relied on our goat milk soap for years, and their clear complexions are a testament to its effectiveness. The natural goodness of goat milk and carefully selected oils ensures a gentle, skin-friendly cleansing experience. Our soap's balanced pH ensures it cleanses without stripping away precious moisture, leaving your skin nourished and refreshed after each use.

When you choose our artisanal soaps, you're not just selecting a cleansing product; you're inviting a piece of our family's tradition into your daily routine. Experience the difference that dedication to quality and the beauty of nature can make in your skincare journey. We're honored to be part of your self-care ritual, and we can't wait for you to fall in love with our handmade creations.